This is the team of dedicated specialists you want working on your Jeep. We spend every day studying, designing, engineering, and building some of the best four-wheel drives available today. Our experience is diverse and comprehensive. For us, four-wheel drives are a way of life!
I began working at a 4x4 Jeep shop just like AV4x4 when I was just 19 years old. I had just purchased my first Jeep; a 1955 Willys Overland station wagon. I immediately needed some hard-to-find parts. I contacted Scotty Ross at Scotties Four Wheel Drive in Camino, California. I began working for Scotty immediately after that and he began teaching me everything about Jeeps and Jeep parts. The experience changed my life and sparked a passion for four-wheel drives that have lasted over 30 years
Since then, I have spent my entire life restoring and building custom Jeeps and many other great American four-wheel drives. I have owned over a dozen rigs and I've built dozens more for customers and friends. I worked in the corporate world for almost 15 years. But owning a custom four-wheel-drive shop was all I ever really wanted to do. I wanted a 4x4 shop that was far more than a place to get parts or have your 4x4 worked on. I wanted a company that stepped up to provide personalized project consulting and guidance on what parts are best for each vehicle and lifestyle. A place people could trust to get their 4x4 built right. A company that strengthens the four-wheel community. So, I changed my life and started American Vintage 4x4. And now, I have the best job in the world. I get to do what I love and most of all I get to help make dreams come true.

Cary Reese, System Integration Specialist
Hi, my name is Cary Reese. I'm 40 years old and enjoy hunting archery, 4 wheel drives, and spending time with family and friends. I was born in raised in Placerville, CA. I moved to Boise in 2008 with my wife and 2 kids. My son is 14 and my daughter is 8. After high school, I attended American River College in a Toyota-specific program while working as a technician at Folsom Lake Toyota. During that time I purchased my first jeep.
It didn't take long until I was on the Rubicon! And that's when the passion started. I began fabricating as a hobby in my garage. I left Toyota after 3 years to work at a local 4WD shop in Placerville. I then sold my jeep and bought my 1972 FJ40 Land Cruiser. I went all out when I built the cruiser as I was working for a land cruiser-specific shop and the rig was stock when I got it. I installed a spring over shackle reverse, Chevy power steering, cut and rotated the front housing, SBC/SM465/OE T-Case, and Custom CV drivelines. This was my Rubicon Cadillac. Over about 6 six years of working at Toyota and a 4WD shop, I realized it was time to move my family to Boise. It was the best decision I ever made. I started working for Bronco Motors Nissan as a line tech while searching for employment with a 4WD shop. When I left Nissan I worked for double-A 'beep beep" MCO. That's right, AAMCO Transmissions. I was diagnosing drivability issues and performing general automotive repair. After 4 years at AAMCO, I realized I was dying to get back to my roots and shortly after met Kevin at AV4x4. It's been a great experience working with Kevin and the AV4x4 team and sharing our knowledge and passion to build the ultimate off-road vehicle for our customers. I'm currently driving a 2003 TJ with a Long Arm kit, 35" tires, and Detroits front and rear. - ASE certified - Toyota certified - Nissan certified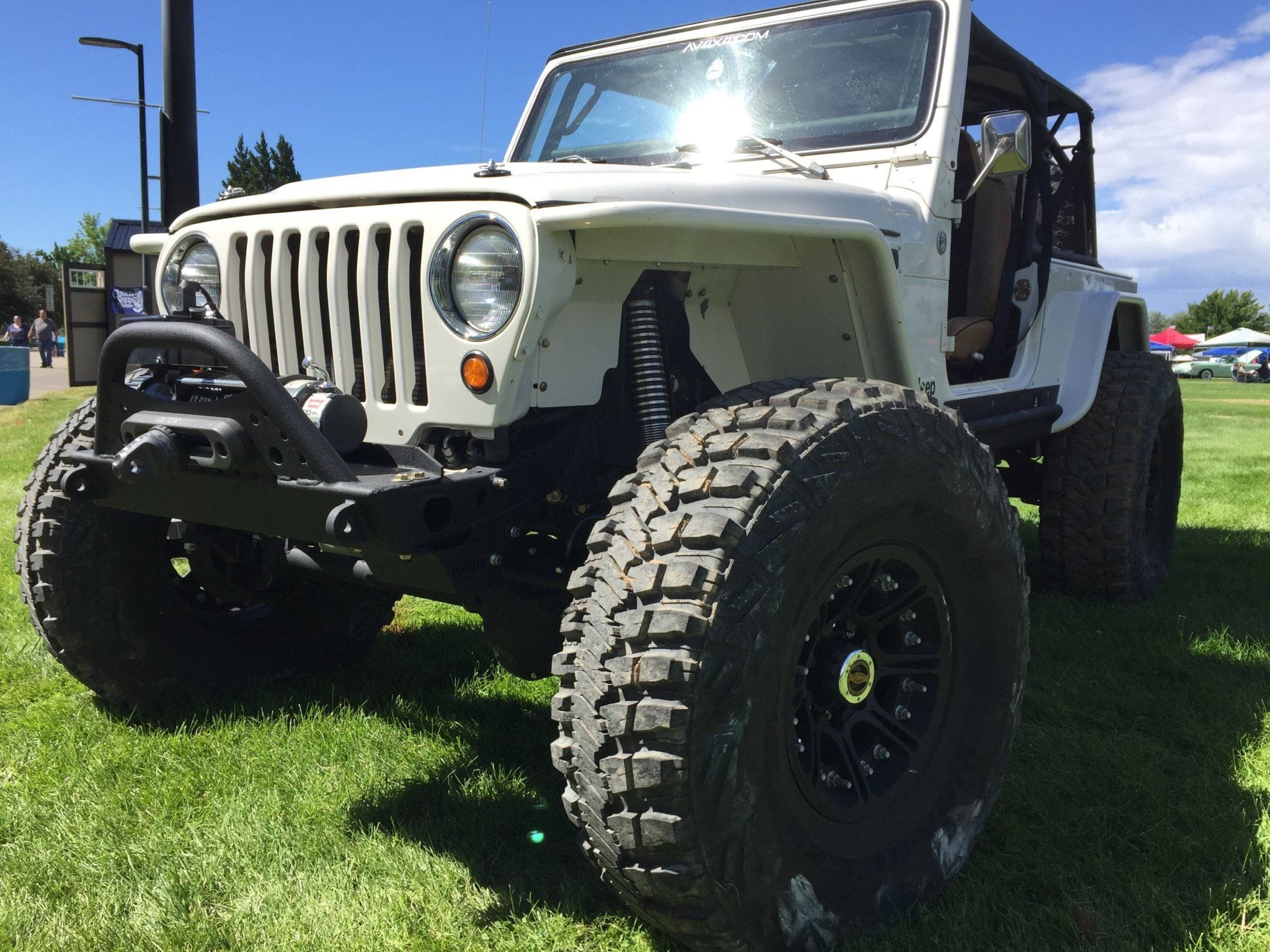 American Vintage 4x4 has everything you're looking for. The experience is amazing, as Kevin the owner sits down with you and creates a plan and options of what you're looking for or needing. Kevin then helps find the best prices and quality. During the install, Kevin makes sure you are updated throughout the day. I'm truly amazed at the customer service and quality that American Vintage 4x4 provides. I have found the ONLY shop my JK will go to for repairs and mods. Give Kevin and American Vintage 4x4 a call you won't be disappointed at all.